Topbright's Team Building for Double Eleven Successfully Held​
Topbright's Team Building for Double Eleven Successfully Held​
From September 23rd to 24th, in order to enhance team cohesion and motivate everyone to face the double eleven in 2017, Topbright Animation Group's Topbright e-commerce team has more than 44 employees and conducted a two-day double in Lishui, Zhejiang. Eleven mobilization and team development activities. The event was successfully held smoothly. Everyone relaxed in the laughter and laughter, and enhanced team cohesion and belonging in the intense and enthusiastic expansion project.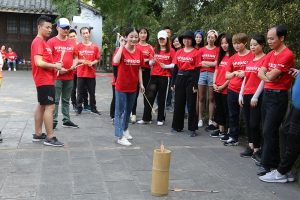 At 8:30 in the morning of September 23, the staff packed up and drove from Rui'an to the ancient scenic spot of Lishui, a famous scenic spot in Lishui. After a hearty lunch, the employees went to the ancient painting town for a moment. , ushered in the highlight of the event - to expand the game.
All the staff were divided into 4 teams - the Red Eagles, the Wolves, the Lions, and the Angry Tebao team. After the introduction of the magnificent team, the fierce official activities began. Under the guidance of the team leader, the team development project was conducted in the form of team-to-team competition. After the bamboo arrow throwing pot, thousands of thousands of feet, relay dribble, brush writing and other rounds of projects, successfully decided the victory team of this event - the Lion King! The winning team members received a small gift carefully prepared by the team leader, and the backward team received a small punishment. The atmosphere of the event was warm, and the whole process of cheers and shouts continued.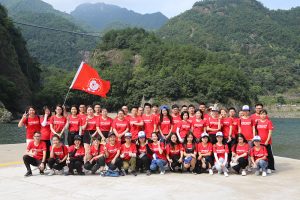 The Lion King, where the employee Xiao Li is located, won. He is very happy. "I think today's expansion game is fun and meaningful. Especially in the relay dribble, it is a test of collaboration. There are several times when the ball falls to the ground. It's all the colleagues who take the lead to successfully reach the end. I hope that during the double eleventh of this year, everyone can be so united and sprint to our goal!"
In addition to the intense expansion projects, there are also easy projects for everyone to relax. On the second day of the tour, under the guidance of the tour guide, everyone visited the Shimendong Scenic Area of the 4A-level scenic spot and visited the scenic spots such as "The Cliff Inscription", "Folding Cliff Waterfall" and "Liu Wencheng Gongyu". Relax yourself in the beauty and sweep away the tiredness of working on weekdays.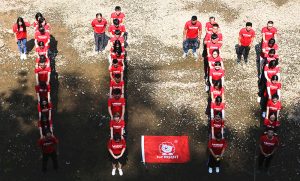 Looking back at this unique team development activity, there is fatigue and sweat, but more is excitement, a sense of accomplishment, and unity and cohesion. I believe that all colleagues will continue to carry forward the spirit of mutual trust, unity and innovation in the next work, and face the 2017 double eleven with a new look, and re-create sales!
Please feel free to give your inquiry in the form below.
We will reply you in 24 hours.